Sonostat® The versatile and powerful ultrasound therapy
Sonostat® The versatile and powerful ultrasound therapy The SONOSTAT® with its different depth-effective frequencies of 1 MHz and 3.3 MHz offers a high degree of functionality and ease of use for universal ultrasound therapy. The ultrasound is applied with ergonomically designed and completely waterproof treatment heads with an area of 2.5 cm² or 5 cm². The ultrasound head is made of high-quality titanium. Compared to conventional aluminium heads, titanium is bionised, i.e. 100% skin-friendly, much more robust and thus more durable and does not tarnish. Both transducers can be connected to the unit at the same time.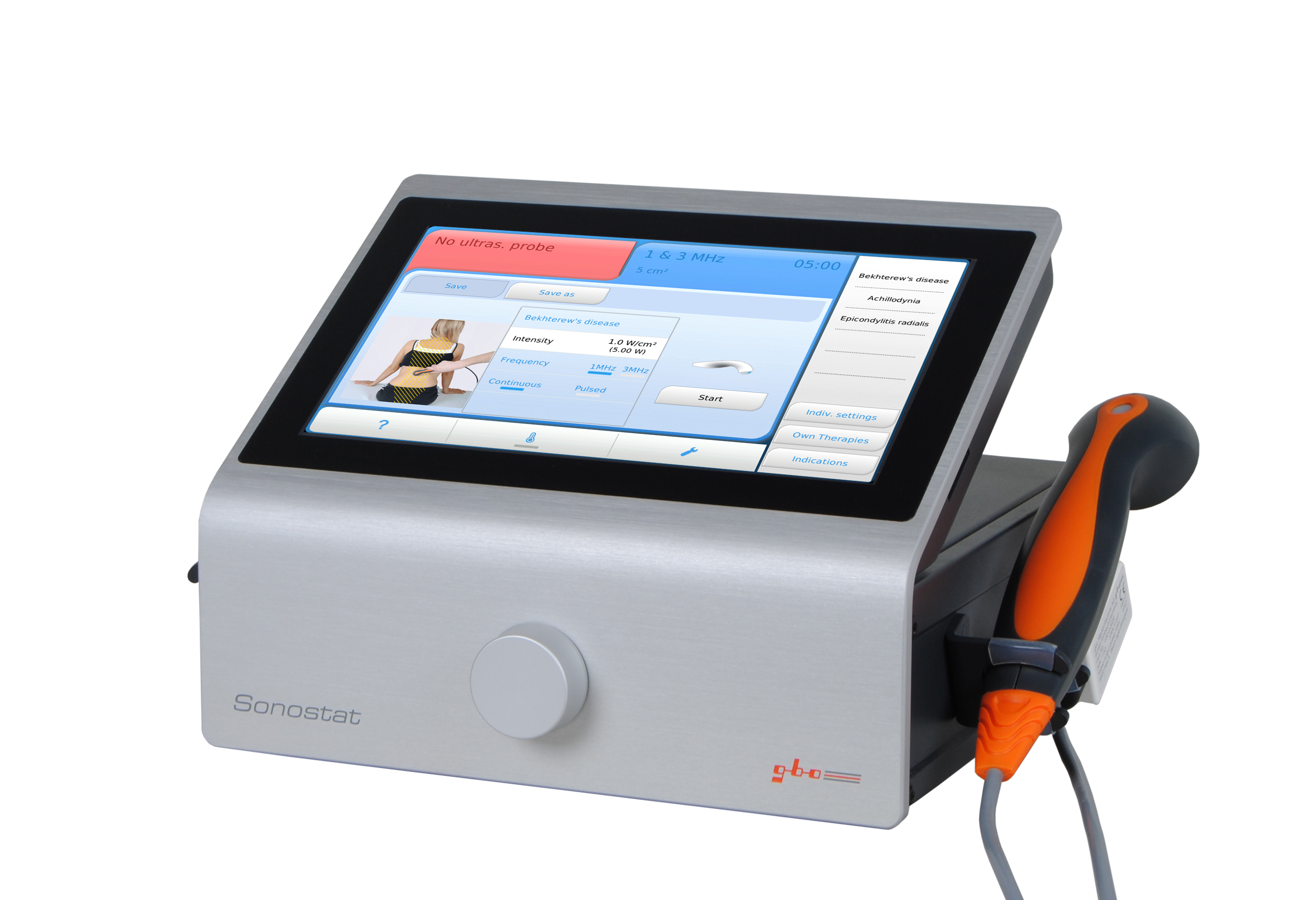 All treatment-relevant information is clearly displayed on an easy-to-read 10.1" TFT display.
Modern "high-tech" design in brushed aluminium and the 10.1" TFT LCD colour touch screen offer the therapist an indispensable extra.
Keyfacts:
1/3 MHz titanium transducers
Integrated transducer heater
One-touch user interface 10.1″ colour touchscreen
High quality design in 8mm brushed aluminium
Indication menu with treatment images
All language variants possible
Combination therapy with Duodynator
Interactive help menu
Application spectrum:
Ultrasound can be successfully applied to due to its mechanical, thermal, chemical and biological effects:
inflammatory, rheumatic diseases of the musculoskeletal system
traumatic affections such as contusions, distortions, contractures
inflammatory affections of the peripheral nerves such as neuritis or neuralgia
peripheral circulatory diseases
Features:
Modern "high-tech" design in brushed aluminium
10.1" TFT LCD colour touch screen
Ultrasound at 1 and 3 MHz with the same ultrasound probe
Fully waterproof treatment heads with 2.5 cm² and 5 cm² available
Transducer surface made of titanium and thus bioinert (100% skin-friendly)
Attractive design
Continuous and impulse sound (50%, 30%, 20%, 10%, 5%)
Optical and acoustic coupling control
Menu for easy selection of indications
Filing of programmes with own parameters
Make a consultation appointment on site now!
You are welcome to arrange a personal consultation appointment with us and convince yourself of our devices. You can make an appointment by phone at +49 6253 808 0 or via our contact form.
Inquiry about the product:
You have a question about our product? Please feel free to write us a message:
Other ultrasound therapy devices: