Stereodynator®
The comfort therapy device with the three-dimensional interferential current.
The comfort therapy device takes a top position in electrotherapy. It works with three-dimensional interference current, which is created by superimposing three medium-frequency currents flowing in different directions. It can be used as a stimulation current and ultrasound therapy device as well as for the combination of stimulation current with ultrasound. In contrast to classical interference methods, the additional third circuit causes a slow change in intensity on the one hand and a rhythmic shift of the interference field on the other. This dynamic of stimulus location and intensity reduces the habituation effect and thus improves the effect.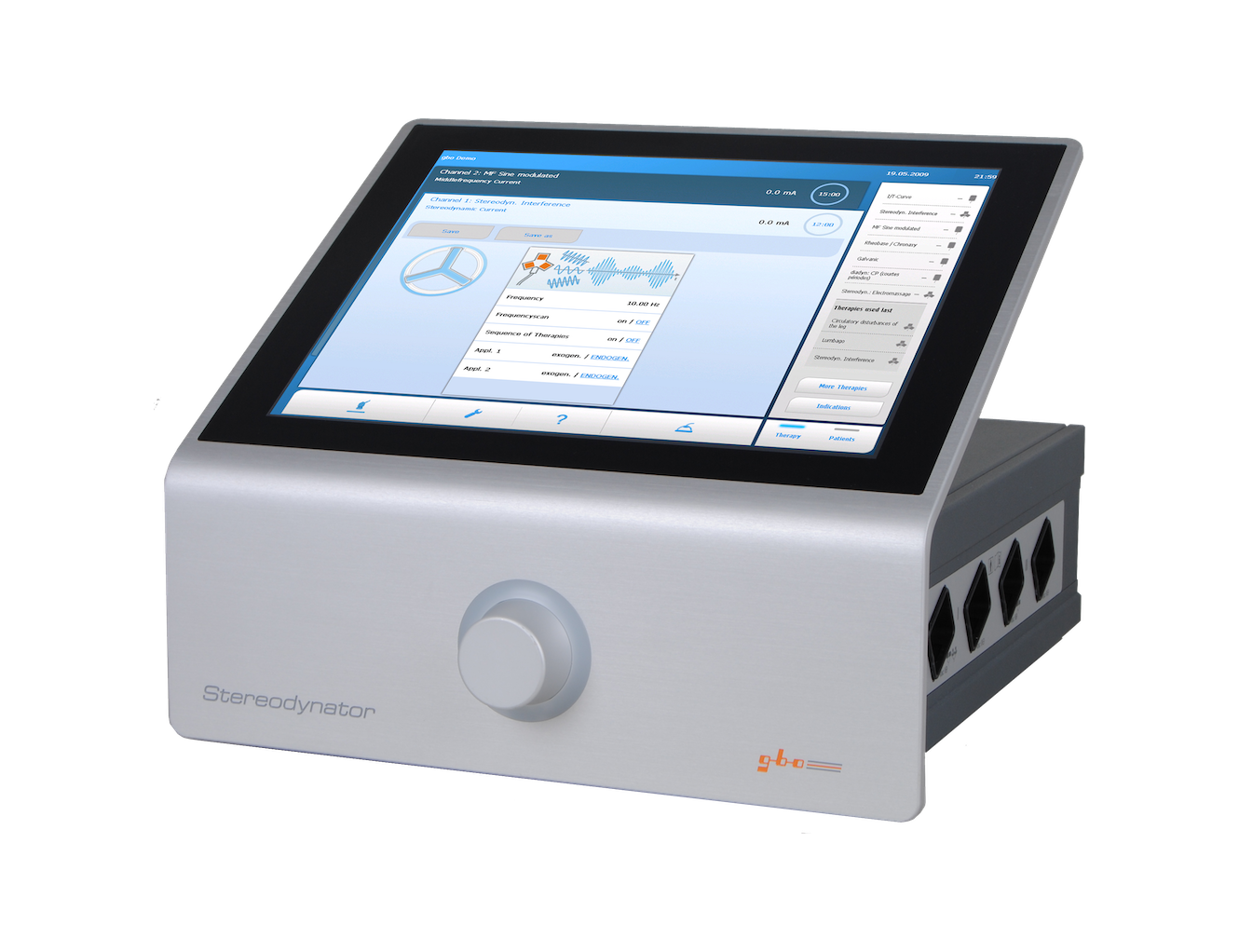 Keyfacts:
One-level user interface through 15″ colour touch screen
High-quality design made of 8 mm brushed aluminium
Quick operation via favourites selection
All language variants possible
Accessories of the 8 and 9 series compatible
Indication selection with investment assistance through colour images
Interactive help menu
Use in treatment:

Muscle toning and detonation
Galvanisation and iontophoresis
Paralysis of totally or partially degenerated muscles
Inactivity atrophies and weakened musculature
Pain, muscle spasms, functional diseases of the musculoskeletal system
Pelvic floor stimulation
Treatment of urinary and faecal incontinence
Use in diagnostics:

MF test according to Dr Lange
Recording of I/T curves (numerical and graphical in the display)
Comprehensive non-invasive electrodiagnosis of peripheral paralysis
Qualitative and quantitative determination of faradic excitability
Determination of rheobase and chronaxy
Features:
Complete set of classic stimulus streams
Two-channel interference current
Stereodynamic interference current with:

spatial stimulus action
Multilocal stimulus effect
Intensity dynamics
Stimulus location dynamics and thus stimulus displacement endogenously/exogenously

Automatic programmes for sedation, myomotor and autonomic stimulation are available
Optional:
Integrated module for ultrasound therapy (1/3 MHz) with a titanium treatment surface and for the combination of electrotherapy and ultrasound therapy
integrated module for venturi suction application
In design and function specially adapted to the new Stereodynator® equipment trolley with storage surface
Make a consultation appointment on site now!
You are welcome to arrange a personal consultation appointment with us and convince yourself of our devices. You can make an appointment by phone at +49 6253 808 0 or via our contact form.
Inquiry about the product:
You have a question about our product? Please feel free to write us a message:
Other electrotherapy devices: