Ultratherm®. The new benchmark in shortwave therapy
In the new Ultratherm®, all major technological advances have been realized: the new solid-state power amplifier enables superior power delivery up to a new peak of 1100 watts of pulse power. The 12″ large display with capacitive touch gives the user the same feeling as a modern tablet. The operation according to our one-touch philosophy has been consistently developed further. There are plenty of easy-to-program individual places available, which can then be called up as favorites with one touch.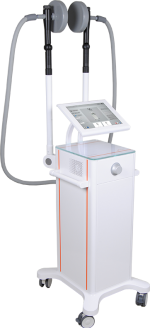 Features:
1100 Watts - Most powerful shortwave in the market
Robust solid state power amplifier (no tubes!)
Operation via 12″ capacitive touch - Like tablet
Programmable favorites = Individual One Touch operation
Modern "Clean Design"
Keyfacts:
Many language variants possible
High-quality metal housing
Most powerful shortwave device in the market
Spectrum of application:
Both superficial and deeper tissue layers can be treated with short waves. One can treat muscle and joint diseases and also organs in urology, gynecology or ENT, which are otherwise difficult to reach. The application range is wider and more comprehensive than with any other physical therapy device. And what's more, when used as directed, the application is free of side effects, unlike many drug treatments.
Make a consultation appointment on site now!
You are welcome to arrange a personal consultation appointment with us and convince yourself of our devices. You can make an appointment by phone at +49 6253 808 0 or via our contact form.
Inquiry about the product:
You have a question about our product? Feel free to write us a message:
Other heat therapy devices: