Duodynator® One Touch to Start
The new, innovative stimulation current therapy device from gbo Medizintechnik AG, the Duodynator®, offers a wide range of therapy options. At the same time, the interface is designed so clearly that easy start-up as well as maximum user-friendliness is ensured. With a single touch, the user can select the desired therapy from his or her list of favourites.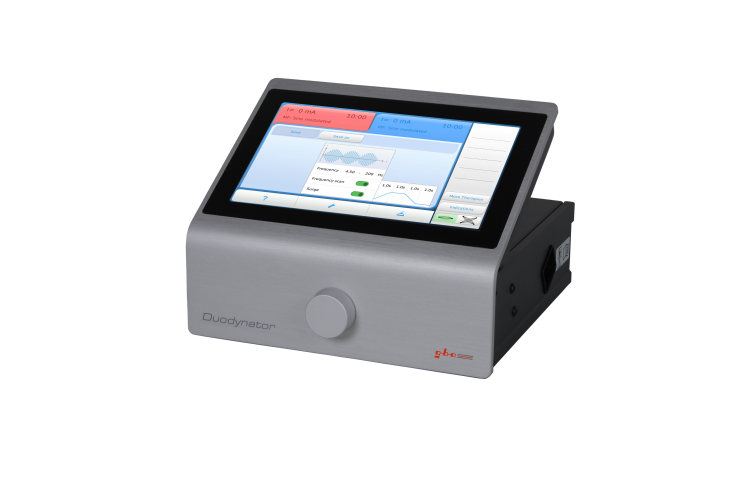 The quick start is then simply done by turning the intensity control. The modern design of the brushed aluminium housing and the 10.1" TFT LCD colour touch screen offer the therapist "a little more" than just a technically high-quality stimulation current therapy device.
Keyfacts:
High-quality design made of 8mm brushed aluminium
Indication menu with treatment images
Quick operation via favourites selection
All language variants possible
Combination therapy with the ultrasound devices
Interactive help menu
Application spectrum:
The Duodynator® is a universal device that works with low-frequency and medium-frequency currents. The Duodynator® has two channels. This allows it to be used as follows:
as an interference device, in which the stimulation effect is achieved by superimposing two medium-frequency currents with different frequencies
as a 2-channel MF device, in which the two channels are used completely independently in different regions of the body, each with its own current form and intensity
as NF device, which uses classical currents of electrotherapy
Make a consultation appointment on site now!
You are welcome to arrange a personal consultation appointment with us and convince yourself of our devices. You can make an appointment by phone at +49 6253 808 0 or via our contact form.
Inquiry about the product:
You have a question about our product? Please feel free to write us a message:
Other electrotherapy devices: