Radiotherm®
The Microwave device for heat therapy in the radiation field
The Radiotherm® generates constant and pulsed microwave energy for thermal and athermal application. With relief of the subcutaneous fatty tissue, muscles, ligaments, tendons and joints are favourably influenced by microwave irradiation: Increased blood circulation, increased cell metabolism, spasmolysis and pain relief are among the most important effects, which already occur after a relatively short treatment period. The range of application is extended by impulse operation. Acute inflammatory processes can also be specifically treated.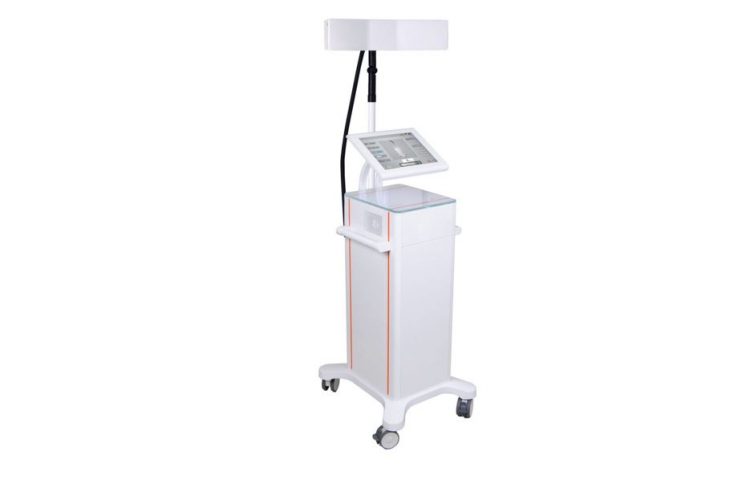 Features:
Continuous and pulse operation
Effortless operation by setting only dose and treatment time
Automatic switch-off at the end of treatment
Immediate operational readiness
Stepless regulation of the power of the Radiotherm® from 0 to 200 watts
Simple application by directing the microwave radiator to the treatment field; no high-frequency tuning; only one holding arm required
Special radiators for different applications: Circular field, long field and trough radiators (up to 200 W) for extremities and extensive treatment zones, focus radiators for narrowly circumscribed disease
Keyfacts:
Programmable favorites = individual one-touch operation
Operation via 12″ capacitive touch - like a tablet
Modern "clean design"
Range of Applications:
By means of a high-frequency electromagnetic field, tissue heating is achieved in continuous operation and an athermal effect in pulsed operation.
The patient group includes adults and adolescents.
The user group includes trained specialist staff such as doctors, medical assistants and physiotherapists in specialist facilities such as clinics, doctors'- and physiotherapy practices.
Make a consultation appointment on site now!
You are welcome to arrange a personal consultation appointment with us and convince yourself of our devices. You can make an appointment by phone at
+49 6253 808 0 or via our contact form.
Inquiry about the product:
You have a question about our product? Please feel free to write us a message:
More heat therapy devices: