Experience
As a long-standing system supplier for SIEMENS, gbo has developed both a sound know-how base in medical technology and the corresponding understanding of quality in development and production.
Quality
Our products are always of superior quality and are characterised by sensible functionality with well thought-out ergonomic operation and attractive design.
We are your competent and direct partner for top-class medical products:
It all began in 1969…
The company was founded in 1969 as "Gerätebau Odenwald". The original purpose of the company was to assemble ULTRATHERM 608 short-wave devices for SIEMENS.
This developed into a close cooperation over the following 25 years, in which gbo eventually developed and produced complete ranges of physical therapy equipment for SIEMENS.
In 1994 SIEMENS transferred the physical therapy business field to their development and production partner gbo.
Since then, gbo has been active worldwide under its own name and, on the basis of the products taken over, has further developed them and expanded its product range.
In addition to SIEMENS as its main partner, gbo has also been active for other well-known customers.
These include MBB with the MediLas produced at gbo, Bosch, VDO and others.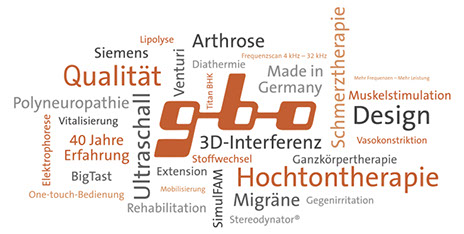 Our competences at a glance