skinny lift® CONTOUR
Beauty gently brought into shape.
Naturally beautiful in just 20 minutes - that's what skinny lift® CONTOUR does. skinny lift® is a combination of ultrasound and patented high-frequency current that introduces active ingredients specifically into the skin and then distributes them evenly. Matrix oscillators with low-intensity pulsed ultrasound waves (LIPUS) introduce the active ingredients into the skin (phonophoresis), while high-frequency current (HiToP®) ensures their even distribution in parallel (electrophoresis) and activates the anti-ageing and contouring processes. New cell formation, collagen, hyaluron and elastin production are stimulated. Each treatment with skinny lift® CONTOUR takes only 20 minutes and should be carried out as a curative application with five to eight sessions. An improvement in the skin's appearance is already noticeable after the first treatment!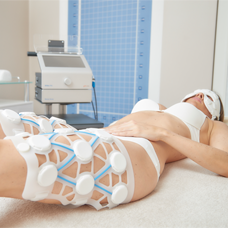 Products
For both application areas - anti-aging and body treatment - there are suitable gels. In the EFFECT gel range, we offer two different gels for anti-aging treatment - Skin Effect and Face Effect. The Body Effect Gel was developed for body treatment.
Keyfacts:
High-tech made in Germany
Use of LIPUS oscillators, which are firmly applied to the client with a silicone mat during treatment
Without manual work, a lot of ultrasound effect is achieved on a large area, such as the thigh
Application side of each oscillator contains an active ingredient reservoir, which is filled with the treatment gels before treatment
Application spectrum:
In the combination skinny lift® CONTOUR with Modul Body, you can treat several body regions at the same time in your studio and thus offer your customers unprecedented treatment efficiency.
MASK: upper half of the face
MOVE: mouth, neck, décolleté
HAND: back of the hand
HAND duo: both backs of the hands simultaneously
FORM: thighs for intensive support of cellulite treatment
FLEX: flexible applicator for upper arms, abdomen and buttocks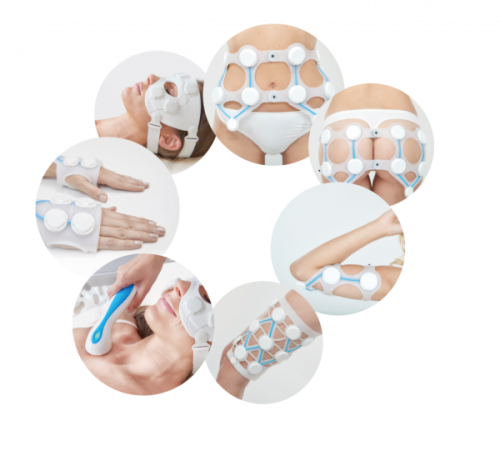 Beauty that gets under your skin.
skinny lift® CONTOUR consists of two modules: skinny lift® CONTOUR forms the basis and is the anti-ageing module for the face, neck, décolleté and back of the hands. The skinny lift® Body module is the medical beauty module for thighs, upper arms, stomach and buttocks. If both modules of skinny lift® CONTOUR are used, several problem zones can be treated at the same time. Three different gels are available for application, each of which is applied to the applicator. The ingredients are perfectly matched to the respective application: "Skin Effect Anti-Aging Gel", "Face Effect Lifting Gel" and "Body Effect Lifting Gel".
skinny lift® CONTOUR works with the skinny lift® MASK, HAND DUO and MOVE applicators to work on all areas of the face, neck, hands and décolleté. In this way, wrinkles, lines and age-related skin changes can be treated over a large area in a targeted and lasting way. With the skinny lift® FORM and FLEX applicators and the accompanying gels, the typical problem zones on the abdomen, thighs, upper arms and buttocks can be treated. Once the applicators are applied, the body's own lifting process is started.
Make a consultation appointment on site now!
You are welcome to arrange a personal consultation appointment with us and convince yourself of our devices. You can make an appointment by phone at +49 6253 808 0 or via our contact form.
Inquiry about the product:
You have a question about our product? Please feel free to write us a message:
More skinny lift® devices: