Pain therapy device for holistic treatment with the innovative high tone therapy
The innovative and unique HiToP® 4touch offers local and holistic pain therapy as well as treatment of various indications. The user interface is so clearly designed that an uncomplicated start and maximum user-friendliness are ensured: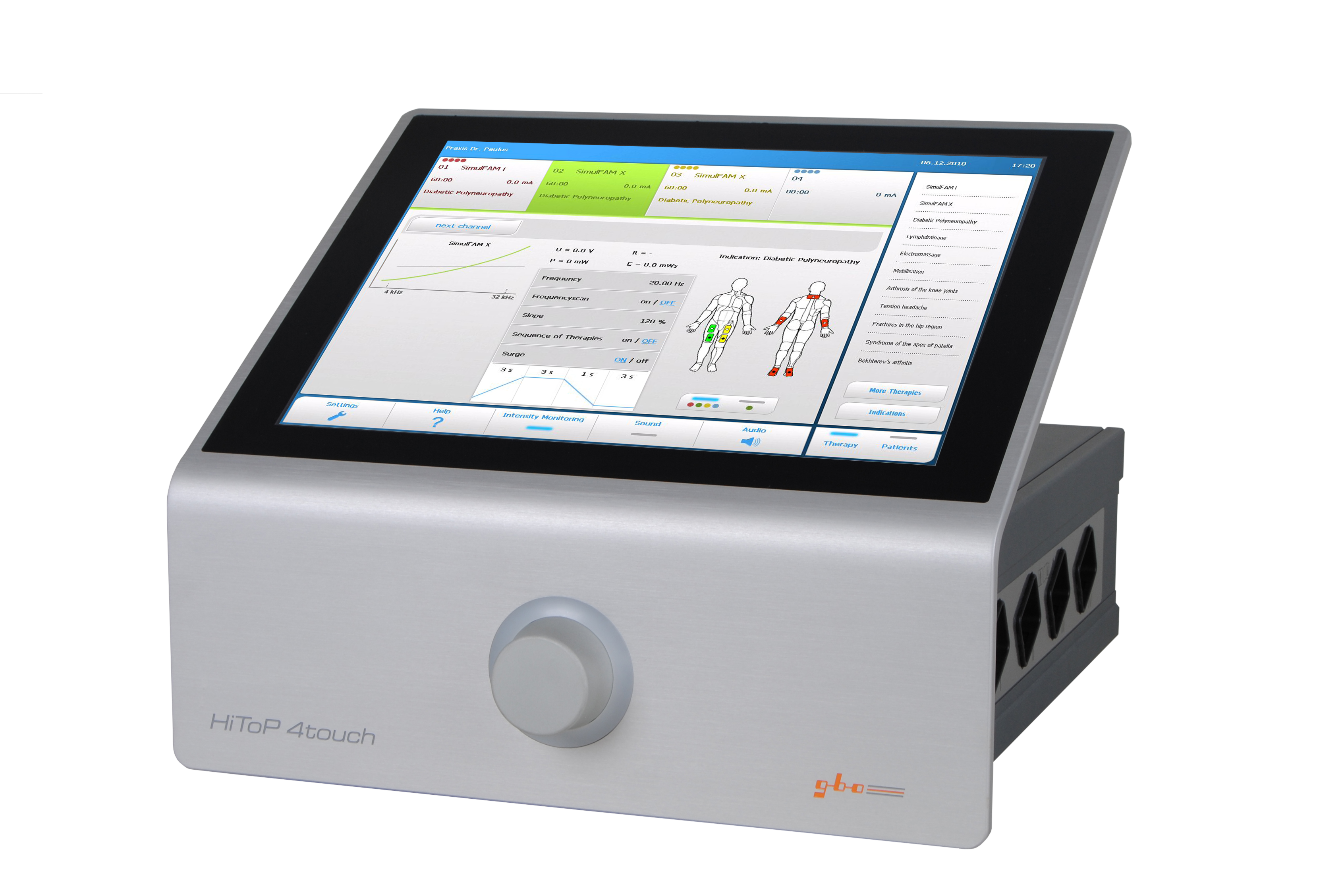 With a single touch, the user can select the desired therapy from his personal list of favourites. The quick start is then simply done by turning the intensity control. Modern "high-tech" design of the brushed aluminium housing and the 15″ TFT LCD colour touch screen offer the therapist an indispensable extra.
Keyfacts:
High-quality design in 8 mm brushed aluminium

Quick operation via favourite selection

All language variants possible

Interactive help menu

Combination with special HiToP recliner



Full range of functions and ease of use
The four independent channels can be displayed individually. Patient data, therapies or indications can be selected in a user-friendly way via the touchscreen. The graphic display supports the work with the unit: system images show the placement of the electrodes. The operating concept is rounded off with the newly designed equipment trolley, where every accessory has its defined place. A special highlight is the treatment table, which has been specially designed for HiToP® therapy and makes the application even more comfortable with its many details. Both patient and therapist benefit from functions such as the faster installation of the patient cables and electrodes, heated couch support and preheating option for the electrodes..
The double-blind study necessary for acceptance by orthodox medicine is missing.
Make a consultation appointment on site now!
You are welcome to arrange a personal consultation appointment with us and convince yourself of our devices. You can make an appointment by phone at +49 6253 808 0 or via our contact form.
Inquiry about the product:
You have a question about our product? Please feel free to write us a message:
Other high tone therapy devices: