TESI ComfoTrac Duo The comfort extension couch for lumbar and cervical spine extension
TESI couches combine the decisive features of massage and extension. An innovative, medical-therapeutic generation of TESI couches has been developed. Not only the comfortable and simple operation, but also the electrically adjustable stepped bed support as well as the adjustability of all settings via a touch screen round off the high technical standard and the captivating design.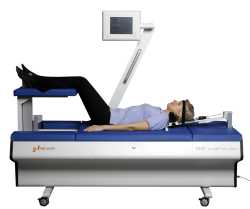 Features:
Spine extension with precision-controlled traction force up to 160 N
Spine extension with precision-regulated traction up to 600 N
Adjustable and controlled surface heating of the support in the back area
Comfortable 75 cm wide lying surface
Vertebral massage with: adjustable massage area, adjustable contact pressure, adjustable speed
Massage vibration with adjustable BMS frequencies
All settings via a large LCD touch screen
Electrically adjustable stepped bed position, depending on body size
Easy to use via the touchscreen display
Keyfacts:
Cervical and lumbar spine extension
Easy operation via touchscreen
All language variants possible
Make a consultation appointment on site now!
You are welcome to arrange a personal consultation appointment with us and convince yourself of our devices. You can make an appointment by phone at +49 6253 808 0 or via our contact form.
Inquiry about the product:
You have a question about our product? Please feel free to write us a message: